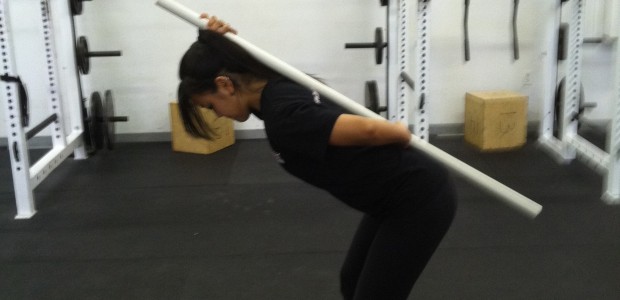 Over the last month or so working with clients, I noticed a few things during assessments and training sessions that I thought was worth passing on to you all.
Now for some of you, this stuff may seem very obvious, but for others, it may be an amazing alternative to the conventional deadlift.
For others, it may be a nice stepping stone to get you pulling from the floor again if you've taken time off, experienced an injury, or just have never been comfortable when pulling from the floor.
Personally, I've never been too comfortable pulling from the floor, even it may look like it.
I have some ankle mobility issues which often pose a problem during the setup. I actually prefer trap bar deads if I want to pull from the floor. But honestly, I hate conventional deadlifts, in general.
As a result, I've been a long time fan of the Romanian Deadlift (RDL) and hyperextensions.
From my experience, a lot of people who come into the gym to train with me are not well suited to pull a straight bar from the floor at first glance.
And as per their goals, they may never need to pull from the floor because, in my opinion, they can get enough strength and aesthetic improvement with less technical movements.
For today, I made a quick video demonstration to show what a RDL and hyperextension should look like. I've narrated the video to explain what's going on, and what you should be doing and feeling.
I'll also detail everything below…
First of all, the basis of these movements is the hip hinge. My friend Sohee Lee wrote a really good explanation of the hip hinge here. [opens in a new tab… stay with me, please.]
Why I Love Hyperextensions
They're a great movement for strengthening the glutes and hamstrings, and are a good way to hit your backside, regardless of whether you're a beginner or advanced trainee.
They're easy to load, as you can hold a dumbbell, plate, or bands if you want to get creative.
They're actually pretty safe when comparing to how complex a deadlift, squat, or other compound movement can be.
I can teach the proper technique within minutes, as opposed to spending an entire session (or more) helping someone get set up with a deadlift from the floor.
They're a good segue into more difficult movements such as the glute-ham raise, or the romanian deadlift, which I'll cover now.
Why I Love The Romanian Deadlift
There is less range of motion than a traditional deadlift, which can be good for those with ankle or hip mobility issues. It's even a good substitute for those with poor mechanics for pulling from the floor (those with long torsos know what I'm talking about).
RDL's hit my hamstrings and glutes way better than a traditional or hex bar deadlift does (but this is highly individual).
I generally feel more comfortable performing this movement than conventional deads.
They are easier to teach locally and write into programming for distant clients.
If done properly, they can provide many of the benefits traditional deadlifts provide which are:
strong/well defined hamstirngs
strong/well defined glutes
upper back and trap development (from the isometric contraction)
increased hamstring flexibility (in case you want to work into conventional deads)
indirect core development
improved grip strength
Practical Application and Programming
I don't believe the conventional deadlift to be of absolute importance unless you're a strength athlete such as a powerlfiter who performs it during competition or Olympic lifter who uses them as an accessory lift for snatches and cleans.
If you're a meathead who thinks the big three are king, I invite you to read something I wrote for WannaBeBig called Getting Big Without The Big Three.
So let's say you're not flexible enough to pull from the floor, or want to build a strong backside without using the conventional deadlift…
The way I tend to program, and the way I primarily did it in LGN365, was to use RDL's as a primary movement, and hyperextensions as a secondary (or accessory) movement.
Now that's not to say you can't use heavy, weighted hyperextensions as a primary movement. You totally can, just make sure that you're paying close attention to form and that you're using your glutes and hamstrings, and not allowing your lower back to take over as you fatigue.
You'll probably need to stick with reps in the 8-10 rep range, with short rest periods depending on loading issues (I can use the 120lb DB's for sets of 10-12).
In this case, I like to set the rep ranges for RDL's in the 4-8 rep range for 3-5 sets with 90-120 second rest periods and then 4-6 sets of hyperextensions in the 10-15 rep range with 60 second rest periods.
If I am training lower body with a hamstring focus, I will normally use RDL's as the primary movement, and build volume from there using hyperextensions, lunges, step-ups, etc.
If I am working my lower half with a focus on quads, I'll often make hyperextensions the brunt of my balance work, meaning that for all the squats, and extensions I do, I'll try to balance those movements out with hyperextensions for the hamstrings.
Demonstration and Proper Form
You can watch the video below, which will give you an example of what the movements look like, and what my focus is as I'm performing the movements.
When working with clients and teaching the hip hinge, essential for performing the RDL and hyperextension properly, I've found it difficult for them to find that stretch in the hamstrings initially.
Most feel the movement in their lower back at first, but with a little work and more attention to detail, you can shift the focus, and most of this comes from making sure you maintain a tight and slightly arched lower back.
What this is doing is putting you in a moderate anterior pelvic tilt. As a result, you shift the focus from your lower back doing most of the work, and begin activating your hamstrings and glutes.
I always aim to hinge my hips forward until I feel a slight stretch in the hamstrings. I pause, and then return to the starting position, regardless of whether we're doing RDL's or hyperextensions. if you feel the stretch, you're heading in the right direction.
If you feel excess tension in your lower back, revisit the simple hip hinge that Sohee demonstrated in the link above.
If you want a program where you can strengthen your glutes at home, check out my booty band workout.