Here's How To Get Away From The Same Old Fitness Fad Rollercoaster, Abandon The Motivation Miracles That Promise "Results Like Magic" But Never Work, And Discover A New, Trim, Toned YOU
THE BETTER WAY TO BUILD YOUR NEW BODY
The Only 12-Month Long Women's Training Program With Baked-In Accountability On The Internet
JC Deen Has Been Seen and Featured In The Following Outlets:
Well I can't say enough wonderful things about JC! I came to him a year ago when I decided to stop the yo-yo dieting, killer cardio sessions and binge eating. Although I wasn't overweight, I definitely had some past food and body issues.

The 12 week program was such a eye opening experience because I honestly stop stressing about training and dieting. I actually had to stop doing so much cardio and focus on the training. It was great to see how strong I was getting and how I didn't need to do so much... I truly learned that less is more! Thank you JC!

Ellen R.

HOTBOD Member
When I started with JC, I was coming from a background of disordered eating and harmful orthorexic behavior which flourished under previous coaching relationships with prominent figure athlete trainers.

What I like about JC's programming is his recognition that physique development has a great deal to do with mind training, habit forming, and emotions -- not just the nuts and bolts of providing a training and nutrition schedule to comply with. I can definitely say that JC's programs and advice have formed part of my recovery process!

Nicole T.

HOTBOD Member
"I know this is JC's business, but he REALLY CARES about people's individual success."
I found the HotBod program while searching the internet for that next great thing to help with my fitness goals. As most of us usually are, I have always looked for the "quick fix" program.
The HotBod program looked like something different, and boy was it.
JC has an amazing way of describing everything - the why, what and how of the program - both nutrition and training. All of this helps you to see that there is NO quick fix, but goals are attainable if you understand how to get there.
And, JC is available to help with any questions you have. When he says 'let me know what you think about the program' and 'how I can help?' - he means it. He answers personal e-mails, opens slots for FREE calls with him (followed up with an e-mail) and gives great feedback through the private HotBod Facebook group.
I know this is JC's business, but he REALLY CARES about people's individual success. I have a whole new perspective about health and fitness after starting the HotBod program and changing my nutrition goals.
This is not just another fitness program with exercises and a meal plan. It is a roadmap to help you meet your goals, whatever they might be, Thank you, JC, for your dedication to helping people through the maze of fitness and nutrition and coming up with a formula that WORKS!!!
"Turn heads in a matter of a few short weeks!"
"JC Deen knows a woman's problem areas and hones in like a laser beam on those areas with an intelligently designed training program sure to turn heads in a matter of a few short weeks! I was skeptical of the program at first but, once I decided to 'go for it', people think I'm a professional body builder-and I'm 53 years old!!"
May Palmer, Washington U.S.A.
Take A Look At What 'Fitness-Fad-Fueling' Magazines Won't Tell You About The Last 'Didn't-Work' Diet, 'Time-Killing' Cardio Workout, And The 'I-Thought-It-Would-Be-Easy' Exercise Routines…
Forget about the up down failures of traditional, predictable, and unproven dieting or fitness program promises that constantly claim you can have lasting results with limited work in a short, simple and shockingly easy to follow routine…
Stop listening to the so-called miracle makeovers that don't require motivation or real change to translate into what armchair TV experts and internet know-it-alls call magic full body transformations...
Completely let go, right now, of all the boring books filled with fitness plan failures and nightmare nutrition plans that obviously aren't made for your body (and even if they were would only work for a few months – at best)…
Just say no to the claimed cathartic cardio-laden training plans that will either leave you injured, out of free time, or wondering what the hell that runner's high that everyone talks about is (because you've never felt it)…
…and get up right now and recognize what all those authors, books, magazines, diet frenzy gurus and workout fanatics don't want you to know…
"If You're Just Going To Follow 'What Everyone Else Is Doing,' You're Going To End Up With The Body That Everyone Else Has."
That's it.
And you don't want the body "everyone else has."
That is the one limiting truth that is going to follow you everywhere if you plan to get on some "what the heck do I do next?" fitness plan that you find on the pages of a magazine or nestled next to some advertisement for the next month's cardio plan or weight loss schedule.
It's the body that everyone else has – and you know that you don't want that body.
We live in an entire world of overweight, stressed, tired, unmotivated, and struggling women who constantly turn to…
Quick Fixes
Fast Cures
Medications
Shortcuts
The Easy Way Out
…all of these plans to lose weight, get fit, add lean, toned muscle and feel absolutely 100% great on the inside and out that don't work and will never work.
And you can tell that they don't work because you can see people doing the same thing over and over again, expecting different outcomes after following another starvation diet that won't work in the long run or signing up for that doing nothing to 5k running program that just leaves them in the doctor's office with an overuse injury.
To Get The Toned Body You Want:
You Need To Make Your Body Work For You.
Only problem is...
We live in a world of fitness plans that work against you.
But there's a secret.
A secret to living a fit lifestyle, feeling great, and looking great.
Actually...
It's three "secrets" that work together…
Motivation
Habit
Consistency
That's it.
You're going to read elsewhere about how it's some $49-per-bottle pill with Garcinia Cambogia or green tea extract...
Someone else is going to tell you the secret is this "one stupid simple interval workout" that you do on the treadmill "just three times per week for 30 days."
One of your friends is going to swear by some 10 day total cleanse and crash starvation diet that you might have tried had you not realized that the weight is all going to come right back on the moment it's all over.
So, instead of following the fads, think right now about those three secrets to toned success...
Motivation, Habit, Consistency...
And Workouts Made To Work With You
I'm telling you these three points because they are the cornerstone foundation of a fitness program that I've developed just for women who want to get toned, lose some weight, and look great.
A full, 365-day training program that's based in physiological principles, fitness fundamentals, and weight loss essentials thattakes out all of the fad nonsense and "what to do next"confusion of mainstream fitness programs...
...And cuts to the core of what actually works.
---
I'm JC Deen and I want to share with you why the program I'm about to show you exists.
We already talked a little bit about the problems with current fitness trends...
Shortcuts, miracle drugs, no-result training plans, and quick fixes that leave you on the diet and workout roller coaster that comes to a stop the second or third go around when you lose all your motivation and come completely off the tracks.
When you look everything that's out there (or just about everything) you suddenly realize that you're constantly looking forwhat's next.
You're asking "what do I do after this?" Or "what supplement do I need to take now?" Or "what new exercise can I do?" Instead of addressing the real problem...
Think about it this way…
If You Picked Up A Fitness Magazine Right Now And Looked Inside You Would See A List Of Workouts That You Can "Try Next" Or A "Brand New Diet That's Going Get You Toned In Just 30 Days"... Why Is That?
It's because those magazines know (and fitness gurus right along with them) that it's very unlikely you'll stick to a plan.
It's very unlikely that you'll be motivated enough, that you'll follow the right habits, or stay consistent enough to actually see results.
In other words, they know you can't stick to a plan.
That's Right – You Can't Stick To A Plan.
(Often times it's because there IS no plan.)
So you end up seeing the same variations over and over again...
Rinsed, recycled and repeated trends, fads, formulas and supplements right alongside the "10 greatest workouts for your core" and the "7 simple tricks that will shock you with results in 7 days."
...And none of them work.
So I was looking at all of this while working with personal training clients in my in-person and online programs and I realized that it was time to create…
HOTBOD: Your Guide To
Getting Strong & Sexy
The Full 365 Day Diet, Exercise, And Result-Based Approach That Will Help You Build Healthy Habits, Stay Motivated, And Keep The Consistency You Need To Actually See Results.
As a fitness coach, my first goal with every client is to educate and create long lasting change that will foster permanent results – until now, the program that you're about to experience was only available to my in-person clients and a select few program testers.
Now you can discover…
What To Do Now AND What To Do Next while following a systematic 4 cycle training program that utilizes high-efficiency weight training exercises that shed fat and build lean tone (not bulk)…
How To Create Your Own Meal Plans instead of just following the "one-size-fits-all" approach. You aren't going to have to experience the restrictive stress of starvation or hassle of 6-7 meals per day like other fad diets…
Easy Ways To Embrace Process so that you can stay on track, motivated, and prepared to lose weight and keep it off over the long term or get fit and stay fit (this is the one step that almost all other programs leave out)…
An Education-Focused Approach that doesn't rely on fads, pills, or processes that only work for a few days before leaving you to just get unmotivated and out of shape (I believe in showing you the why behind everything you'll do)…
The "Right For You" Way To Fitness, not the made for everyone or good for this month bad for next month made to sell magazines style workouts and nutrition information that will likely never work..
And Much, Much More...
Component #1: Main Hot Bod Manual
The first component to the Hot Bod program is the main manual itself...
Inside this core manual, you'll have the complete plan that gives you my full view of what it takes to build and maintain a strong and sexy body.
We cover everything you must know to make the proper training, nutrition, and lifestyle changes...
You'll learn all about:
Why we can't (and shouldn't) always rely on numbers, whether they be on the scale, or on the bar
What proper training means, and why you must pay attention to your intensity levels, regardless of how much weight you're using
Why it's impossible to build a manly body, and why training hard, and intensely is the secret to changing your body
Why fad diets and magazine meal plans aren't actually helping you eat well for the longterm
How to eat in a way that fuels your recovery, helps you make gains in the gym, and helps you reduce body fat at the same time
How to make adjustments when you hit plateaus (because let's face it — it happens to everyone)
Component #2: Mindset & Motivation Guide
The HOT BOD Mindset and Motivation Guide cover what most other fitness products don't.
It's easy to just work out and eat better, but what about when you don't feel like training, or eating right? What about those times when you feel like giving up? Without the proper mindset, you'll find it hard to achieve and maintain your results longterm.
In the Mindset and Motivation Guide, you'll learn about:
What the proper mindset looks like, and how to develop the proper habits that make it impossible for you to not succeed
What habits are, and why you should care about creating new ones and changing bad ones
Mindfulness, and how to practically apply it to all aspects of your fitness journey. Mindfulness is an easy tool to keep you in the present, and focused on the process
Why having process-oriented goals are much better than outcome-based goals
How to properly give yourself assessments to ensure you're heading in the right direction and getting the most out of your measurements
Why it's impossible to be perfect, but imperative you aim for your very best
Component #3: Exercise & Mobility Demonstration Videos
I want to ensure you know exactly what you're doing every step of the way, so I created a series of high-quality videos you're getting lifetime access to.
Follow these video to know exactly what the exercises look like and never guess what exercise you should be doing again.
Component #4: Conditioning & Cardio
Cardio, to me, is a four-letter word. In the Conditioning and Cardio section, you'll learn how to determine if you even need cardio sessions, and how to make the most of them for your personal goals.
You'll have access to 4 video demonstrations of my favorite fat-blasting conditioning sessions (we call them finishers) you can add to the end of your training sessions to maximize your progress.
In the case you can train an extra day outside of my recommendations, there are full instructions on how to add some steady state and conditioning days to your program.
With this guide, you'll be able to make the right training choices for you without any guesswork.
Component #5: Online Calorie Calculator
You get fat loss and muscle gain calculators that are easy to use. No need for fumbling through confusing equations.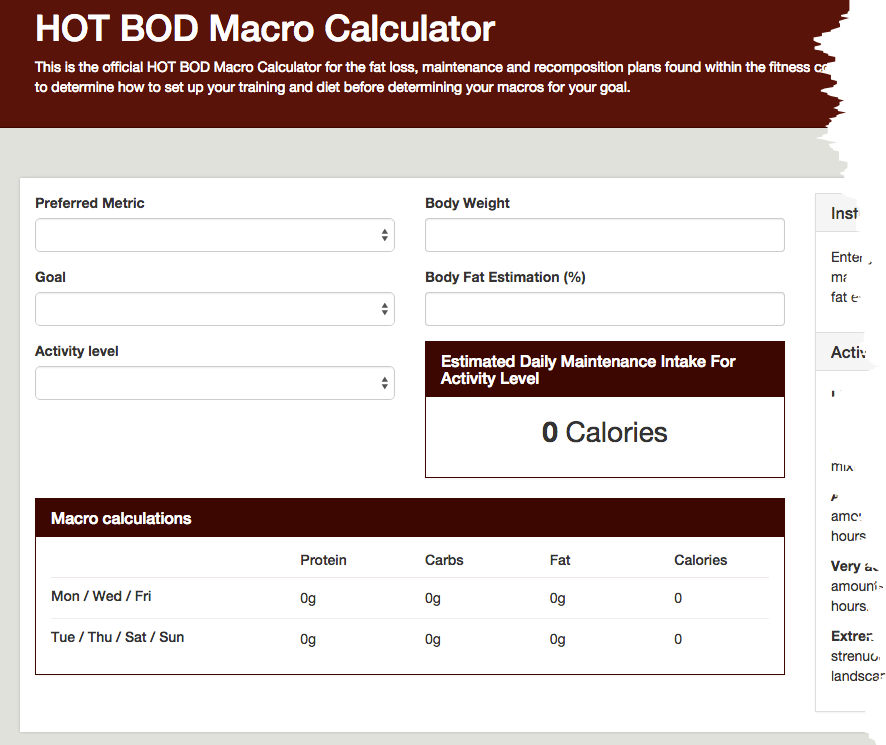 Based on height, weight, gender, and body fat percentage.
No fancy equations for you to get frustrated using…
Establish a baseline calorie recommendation instantly.
Calculates Protein, Fat and Carbohydrate Macronutrients.
NO GUESSWORK – PLUG IN YOUR STATS AND GET STARTED
Yes – The Hot Bod Program Includes Weight Training.
No – You're Not Going To Look Like A Body Builder.
(...Unless you want to.)
The results are proven and still, the one reason people tell me that they don't want to sign up for this program is "I don't want to look like a body builder."
Some people do want that look – and with a few minor adjustments, you can achieve it.
But, for everyone else...
Understand that lifting weights does not equal "getting big."
Standard
HOTBOD Manual and Motivation Guide
Full 12-Month Training Program
Video Exercise Library
Online Macronutrient Calculator
Private Facebook Accountability and Support Group
GET HOTBOD
Premium
Everything included in STANDARD plus the following:
1 Month of Personal Coaching
1 Hour Long Strategy Call To Get You Started
Weekly Accountability And Feedback From JC
GET HOTBOD
The Hot Bod Program Is Available For Just $50...
And That's For Lifetime Access!
This 365 day training program is available right now (for a limited time) for just $50. That's $50 off the normal price and just over $0.13 per day for each day of your year-long training cycle.
To put that into perspective…
Many of the supplements that people just like you try (the same supplements you read about in fad fitness blogs and magazines) can cost $50 just for a 30 day supply.
Or – think about that $50 or $100 per month gym membership that many people use twice because they "just don't have the motivation" or "don't know what to do next."
For The Same Price As One Month of A Gym Membership You Might Not Use Or A Fad Supplement That Wouldn't Work Anyway – You Get The Last Fitness And Nutrition Program You'll Ever Need.
And you don't have to wait until the price goes back up to $97 to try the Hot Bod Program...
I want to give absolutely everyone the opportunity to put these principles into action – without having to worry about if it is going to work, what it's going to cost, or if the promises that you've heard before can actually come true…
I absolutely understand how hard it is to believe anything in a world where fitness trends come and go faster than the days go by.
That's why this program includes…
My "Get Results Or Get Your Money Back"
60-Day Risk-Free Guarantee
| | | |
| --- | --- | --- |
| | 100% No Questions Asked, Money-Back Guarantee | |
When you order today, you get complete Hot Bod Program access, 365 days of training, explanations, demonstrations, and guidelines in 4 phases, and a 60 day guarantee that can't be beat.  
Try the program for 2 FULL months and if it doesn't work for you, just let me know and I will send your $0.13 per day investment back to you (that's $50 total).
Get complete access today, 100% risk free.
Get Access Right Now, Take A Look Inside, And If It's Not For You, I'll Send Your Money Back!
When you invest in the Hot Bod Program today, you get instant access to all of the course material:
Standard
HOTBOD Manual and Motivation Guide
Full 12-Month Training Program
Video Exercise Library
Online Macronutrient Calculator
Private Facebook Accountability and Support Group
GET HOTBOD
Premium
Everything included in STANDARD plus the following:
1 Month of Personal Coaching
1 Hour Long Strategy Call To Get You Started
Weekly Accountability And Feedback From JC
GET HOTBOD
Why Purchase The HOT BOD Program?
Take This Program Anywhere
Because this is a fully digital program, you can download it on your phone, iPad, or computer and take it with you anywhere you go!
No B.S. Fat Loss & Muscle Building Advice
This isn't your average cookie cutter "magazine workout"... You're getting no-B.S. advice on stripping off fat while building the (not overdone) muscle you want.
Instant Downloadable Access
This program is completely downloadable, which means that once you purchase HOT BOD, you'll get instant access to everything right away!
Incredible Customer Support
Need help with your order or getting access to the content? Have questions on the course as you follow the program? No problem! I'm here to help you.