Boston's #1 Fat Loss Expert Reveals The Biggest Nutrition Breakthrough Of The Decade…
Get In The Best Shape Of Your Life In The Next 28 Days While Eating Your Favorite Foods Every Single Week!
Imagine waking up 28 days from now, walking to your mirror, looking up at yourself, and saying with steely-eyed confidence and excitement…
"Damn, I look good!"
Well, I've got both great news and bad news.The great news is that you actually can turn this dream into a reality. In fact, not only can you get in the best shape of your life in the next 28 days, but you can do it all while eating your favorite foods every single week. 
The "trick" is to follow a new breakthrough nutrition system I've discovered after 10 years of training men and women from across the world and studying the difference between those who get real world results and those who don't. Today, everyone I share this secret with swears by it because of how fast it works and how simple it is to follow.
This system is specifically engineered to help you…
In other words, this breakthrough nutrition system can help you experience life changing results within the next few weeks by letting you skip all of the pain involved with "traditional" diets and instead help you go straight towards the results you want.
I call this system, The MicroDiet.
The bad news is that everything you've been told about dieting is dead wrong.
The Shocking Reason Behind Why "Traditional" Diets Are Designed To Fail
Keto, Paleo, IIFYM, Atkins…
These are some of the most popular diets in the world. Yet, each of these diets also have thousands of documented cases where people are falling off the wagon almost every single day and thousands more dealing with post-diet weight gain.
In fact, despite more Americans trying these diets more than ever…
Over 70 million U.S adults are obese and another 99 million are overweight right now!
So what's the common denominator behind why all of these diets eventually fail?
They obsess over macronutrients.
In other words, if you're on the Keto diet, you're told to keep an ultra low carb diet., If you're on the Paleo diet, you're told to focus on protein. If you're on the Mediterranean diet, you're told to focus on fats. So on and so forth.
In all cases though, macronutrients help with weight loss… but only for a little while.
That's because macronutrient-restricted diets will always make you feel…
All of these things lead directly to yo-yo dieting, which is arguably the worst possible experience someone can when trying to get in shape. It's like a never ending hamster wheel where you'll spend years feeling awful and all without anything to show for it.
Worst of all, yo-yo dieting can leave you even fatter than when you started!
So if these diets aren't the solution, what is?
How I Discovered The Biggest Nutrition Breakthrough Of The Decade
Hi, I'm JC Deen.
I've been featured on some of the biggest health sites on the internet such as Men's Health, Men's Fitness, Huffington Post, and AskMen. But more importantly, I've helped thousands of people just like you go from weak and flabby to strong and lean.
During all of this, I've personally seen thousands of people fall off the wagon.
So after years frustrated with how often I saw my clients would get excited to start their new fad diet and then drop off just a few weeks later, I decided to take matters into my own hands and find a solution that would solve this issue forever.
After scouring through hundreds of scientific papers and testing all of my findings with over 100 one-on-one clients, what I found was shocking…
Micronutrients are the secret to sustainable fat loss.
Here's what I mean…
When you go on fad diets that restrict your macronutrients, such as keto or atkins, you end up severely cutting both your calories AND the micronutrients you take in. For example, the first thing people do in most diets is cut their carbohydrate intake. Doing this leads to quick results, but it also leads to quickly cutting your Vitamin A, E, D, Chromium, Iodine, Magnesium, and more.
If you do this, you will instantly become a ticking time bomb.
Because your body was never meant to be nutrient deficient, it will do anything to get back to "homeostasis" or "normality" as soon as humanly possible. In practical terms, this means hunger pangs that lead to binge eating and ultimately yo-yo dieting.
In conclusion, diets that focus on micronutrients work best.
This then led me to a decade-defining breakthrough…
The Secret To Looking Great Naked...
Micronutrient Targeting 🎯
If you want to burn fat, you must be in a caloric deficit.
The problem is that there is no one single diet that is specifically designed to help you be in a caloric deficit while also hitting your micronutrient goals. Most are just focused on restricting a macronutrient, like carbs, to cut your calories without even acknowledging your micronutrient needs.
The solution?
Micronutrient targeting. 🎯
This is when you burn fat by actively hitting your micronutrient goals while you're in a caloric deficit. More specifically, you want to hit your RDA or Recommended Daily Allowance, which is virtually impossible in most fad diets.
Once you can consistently hit your micronutrient targets, your body goes from a ticking time bomb to a high performance fat loss machine. Now, you can weather any storm and even accelerate your results because you can workout harder and eat less while feeling like a million bucks the whole way!
Simple, right?
Now, you could do this on your own.
However, I've designed a step-by-step nutrition system that is designed to help you hit your micronutrient goals so you can get in the best shape of your life.
Look Great Naked In Just 28 Days With Micronutrient Targeting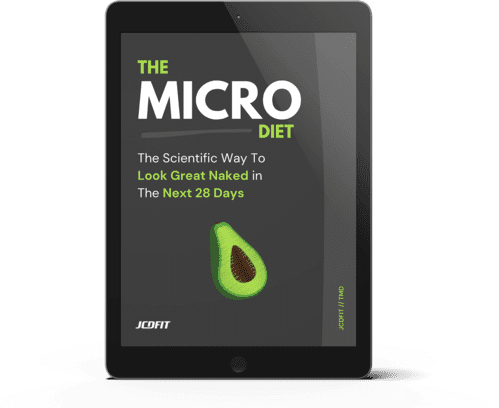 If you're ready to end yo-yo dieting forever… If you're ready to get in the best shape of your life… If you're ready to feel great again…
Then now is the time to grab my brand new system called The MicroDiet. I consider it to be my magnum opus. It's by far the most important thing I have ever published. Inside, I've encapsulated the biggest nutrition secrets I've learned over the past 10 years.
Here is everything you get…
The Official MicroDiet Manual (Value: $500)
Get in the best shape of your life in just 28 days with The MicroDiet. Inside, you get the entire challenge laid out for you. This includes what to eat, when to eat it, charts, tables, and much much more. Normally, my private clients have to pay $500+ for just one month of nutrition coaching. So when I say you're getting a $500 value with this manual, it's real.
Bonus #1: The MicroDiet Quickstart Guide (Value: $27)
The MicroDiet Quickstart Guide is the down and dirty, nuts and bolts, quick-reference version of the program. Once you've gone through the main manual, this quickstart guide will help you save valuable time by giving you the exact action steps to focus on.
Bonus #2: The MicroDiet Restaurant Cheat Sheet (Value: $17)
What if there was a way to burn fat while eating out? With the MicroDiet Restaurant Cheat Sheet, you get exactly that. Inside, you'll get the exact instructions you need to make smart choices while eating delicious foods at your favorite restaurants.
Bonus #3: The MicroDiet Supplementation Guide (Value: $17)
While most of your results will come from eating real food, supplements can give you the edge you need. The problem? You can waste hundreds of dollars on supplements that don't work. That's why in this guide, I give you the exact supplements to buy and from which brands to buy from.
Bonus #4: The MicroDiet Sample Meal Plans (Value: $49)
Wondering what MicroDiet-approved meals actually look like? Inside these sample meal plans, I give you the exact meals for both men and women. These are simple and will help you see what creating your own diet could look like.
Bonus #5: The MicroDiet Grocery List (Value: $17)
The foundation of the MicroDiet are the specific foods you need to eat everyday. So to make it easy for you to get the best foods for the diet, I made a complete MicroDiet-approved grocery list you can print out and take with you so you can shop with confidence.
Bonus #6: The MicroDiet Recipe Bundle (Value: $17)
Variety! No one wants to eat the same meals every single day. So I'm gonna hook you up with a bunch of recipes you can download and experiment with to keep making progress on The MicroDiet.
My "Get Results Or Get Your Money Back" 28-Day, Risk-Free Guarantee (No Questions Asked)
When you buy the program today, you get complete access to it along with its accompanying bonuses with a 30-day guarantee that can't be beat.
Try the program for a FULL 28 days and if it doesn't work for you, just let me know and I will send you all of your money back.
So hit that button, download the program, and get started 100% risk-free.
Real World Disclaimer: If you put in the work, and apply everything I'll have taught you in The MicroDiet, you'll get results. I want you to understand something first. Nothing worth having is ever free, or easy. My methods are simple, no-BS, and very effective, but you still have to work hard. You must follow the plan as written. If you do find yourself getting stuck, or confused, I'm only an email away and I'd love to see how I can help you in the case you're not making the progress you'd hoped for.
And trust me – I answer all my emails. I'm not some of these gurus who hard sells you and then leaves you high and dry. Just ask any of my readers and customers. In saying that, I'm going to extend a 30-day 100% Money Back and Results Driven Satisfaction Guarantee even further: If you follow The MicroDiet to the *tee* and don't make significant progress toward your body composition goals, then I'll refund your money. No hassles, no hoops to jump through, just a prompt refund.