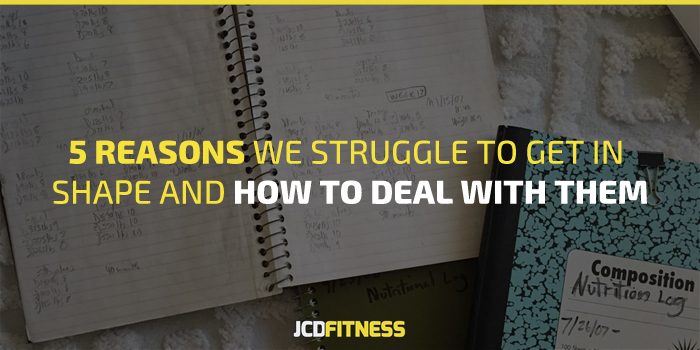 The last article was all about the whole 'what's your excuse' thing and why I don't think it's very helpful. Today I'm going to show you why these so-called excuses are actually legitimate reasons affecting your ability to make change.
They're actually clues into what's going on from a habitual perspective, and I'll give you some ideas on how to change them.
Here's a real email I got received recently: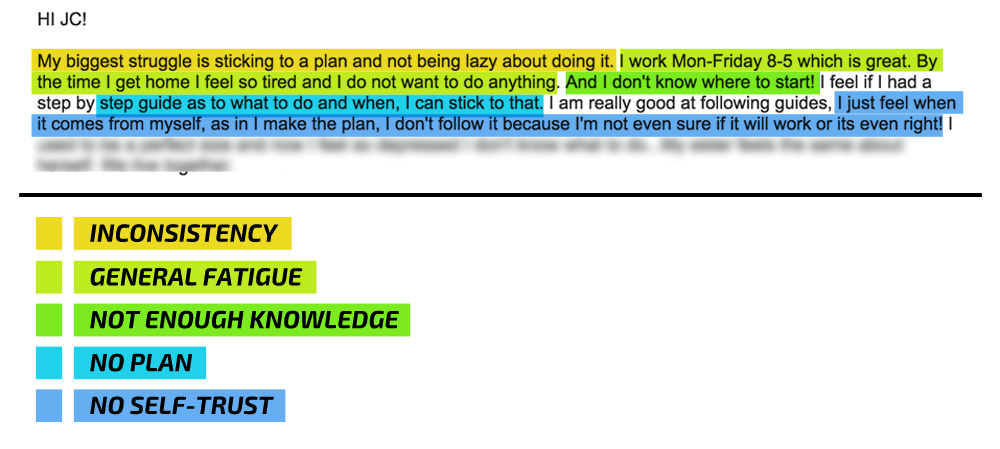 It's from someone who's trying to get more structure into their routine and onto a training program, but the obstacles they're facing are the following:
Inconsistency
General fatigue
Not enough knowledge
No plan
No self-trust
If we look at all of these as reasons, not excuses, we can begin to look at how to overcome them.
Let's go over some ways to make this a reality.
My Biggest Struggle Is Sticking To A Plan (Consistency)
Whether it be training or tracking your diet, sticking to a structured plan is important. It's probably more important than any one thing you do because if you're consistent with diet/training, then you're on the path to achieving your fat loss and muscle gain goals.
Consistency is the hardest part because it's not always easy to go to the gym or eat on plan.
It's not always easy to get in a workout when you get busy, so I like to ask a few questions:
What do you value? (is it health? mobility? strength? muscle?)
How do you see yourself? (see this for identity-based habits)
What's important to you? (thinking about the future and goals here)
The so-called perfect plan will not work if you don't stick with it, and a less-than-perfect plan is much better in the long run if you can keep it up.
In
4D Fat Loss
, one of the lessons we cover in the course is the power of 85%, which focuses on doing your best to be consistent with diet and training 85% of the time because aiming for perfection will only make you disappointed and burnt out.
How To Be Consistent
Start small with the changes you want to make. Even if it's as simple as changing one behavior at a time. If you make one solid change every month for the next year and fail with half of them, you'd still have 6 new habits you've created.
Also, keep a log and track your progress. Here are old food and training journals I found going through some boxes last week.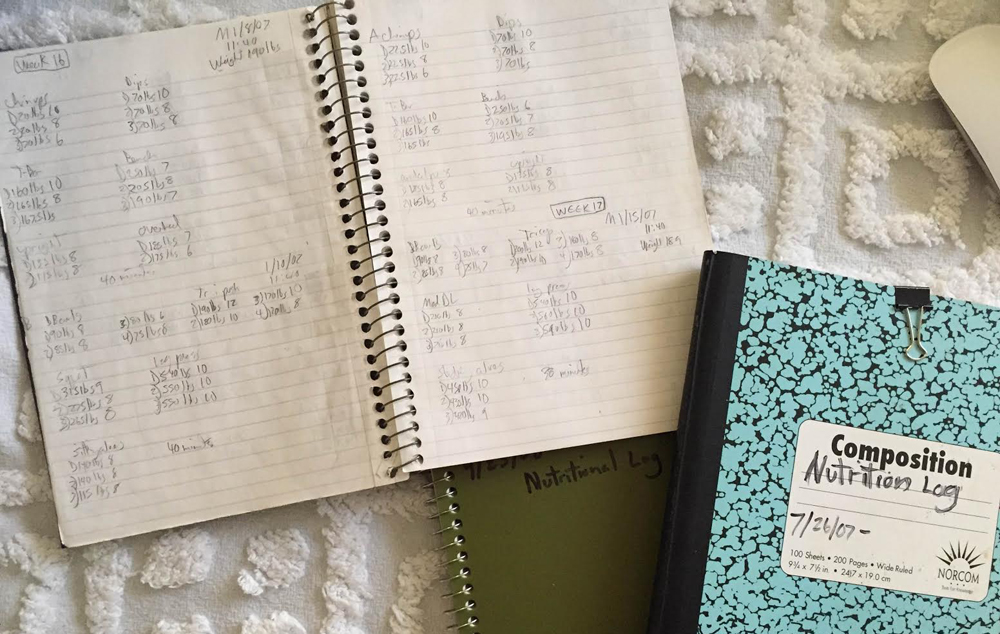 By The Time I Get Home I Don't Want To Do Anything (General Fatigue)
This is the power of inertia. It's easy to let your habitual instincts get the best of you. You might have all the good intentions in the world of going to the gym after work, but if you don't set yourself up to make it happen easily, you probably won't ever do it.
Here are some ideas to make going to the gym or exercising during the work week:
Pack your gym clothes the night before and put them in your trunk, so when you get off work you have everything you need to go straight to the gym.
Create a better sleep routine that will allow you to wake earlier to get the gym done in the morning. (this is not the easiest thing, unless you are an early riser to begin with)
Hire a coach so you have accountability to do your plan, or join a class that you have to pay for as extra incentive to get to the gym.
Ask a close friend who wants to exercise and make it a ritual to work out together.
There are a bunch of ways to push past this general fatigue we all experience at the end of the day, but sometimes those feelings of fatigue are habitual and simply conditioning associated with "getting off work."
I Don't Know Where To Start (Not Enough Knowledge)
This is a legit concern because if you don't know what to do, how do you even get started? It's a tough question because you need to have some base-level of knowledge, but how much is enough?
Many people get caught in the trap of trying to know everything before taking action, and it's a slippery slope because you might spend all your free time trying to acquire all the knowledge necessary when you could be using what you already know to train and exercise while continuing to learn as you go.
If you're a type-A personality (raises hand), it's really easy to get stuck in this mindset from time to time. This is why I recommend taking imperfect action.
Another idea here is to stop worrying about the goals and outcome you want and focus on the process instead.
Focusing on the process is one of the major lessons and overarching ideas in the 4D Fat Loss Course (closes on Oct, 15th)
If you know your way around the weight room, and can go for a walk outside, you know enough to get started. Now you just have to pick a plan and stick with it.
I'm Good With Step By Step Guides (No Plan To Follow)
Having a plan is half of the equation. The other half is actually doing it. But having a training plan is hardly enough because if you don't have a history of disciplined training and monitoring your diet, it can be very hard to keep yourself accountable.
This is why so many people get started but don't follow through. A fear of 'is this going to work for me?' can plague even the most seasoned of individuals when they're vulnerable.
I can attest to this and it's why I often have a coach writing my programs and helping me with my diet-related goals. I have the knowledge, but even I second-guess myself. (It's totally okay to admit if you do this too).
So what do you do?
Always have a plan, either from a coach, or something you've paid for, a free one, or something you've done in the past. Always have a plan.
When The Plan Comes From Myself, I'm Not Sure If It Will Work (No Self-Trust)
This is the biggest problem with writing our own programs and trying to do it all on our own.
While we might make the right decisions on what training program to do, or what diet to follow, it's hard to trust ourselves. We have these internal biases to think one way or another and oftentimes, we don't believe we know enough or are capable of actually changing our bodies or improving our health.
So our good intentions of setting up a plan for ourselves tends to backfire after a few weeks of giving into the negative self-talk we experience telling us the program is not good enough, or there's something else on the internet that's much better – we just haven't found it yet.
Most all of that are lies, mind you, but it's the hamster wheel that keeps on turning over in your head until you go off plan and try to figure it all out once again…
Even when you're following a plan that was written by someone else, you have to trust yourself to follow through. So practice the following through part—every day—and repeat.