4 years ago I released LGN365, my first product ever here at JCDFitness. The idea was born after hanging for a week in NYC and drinking bourbon with John Romaniello.
Since then, I've released HOTBOD (my women's program), Stay Leaner, Longer (my fat loss mindset book), and I've coached many individuals online all over the world.
And now, my latest fat loss course is ready for the world. 4D Fat Loss.
What Is 4D Fat Loss?
There are 3 main components to 4D Fat Loss. Those are:
Knowledge: my most up to date, educational health and fitness writing with a focus on fat loss and body composition.
Application: a full 8-week course built around a system I created (DMA for short, explained below) with built-in exercises for self-study and practical implementation into your individual lifestyle.
Accountability and Support: a private group of individuals going through the course at the same time led by me. Each week we will go over the lessons and work in a group setting for establishing structure and support one another in creating new habits.
Here's a brief outline of each component:
Knowledge
In this course, there are 4 total guides I've written. They are:
4D Fat Loss Main Guide: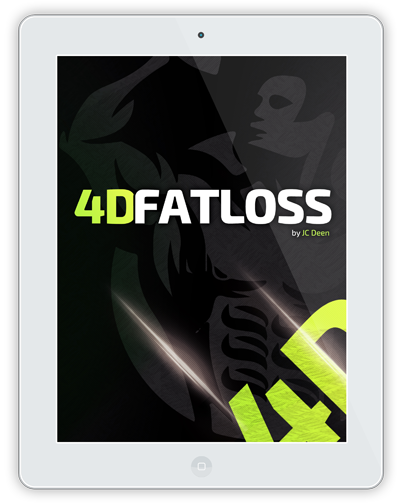 88 pages, 24,000 words, most everything you could want to know about how fat loss works, and practical ways to lose body fat in real life.
It's not only practical information, but it's a resource you can use for a long time. Anytime you need to reference something or go back to refresh yourself on an idea, it's all there.
—
Table of contents:
Chapter 1: How To Lose Body Fat
Chapter 2: Problems With Most Mainstream Fat Loss Advice
Chapter 3: Training For Fat Loss
Chapter 4: Calories, Macronutrients, and Ratios
Chapter 5: The 4D Fat Loss Approach Explained
Chapter 6: Nutrient Timing, Meal Frequency, And Personal Preferences
Chapter 7: Tracking Progress
Chapter 8: Fat Loss Expectations And How To Make Adjustments
Chapter 9: Recovery Processes
Chapter 10: Supplementation
4D Fat Loss Training Guide:
31 pages, 6,500 words, all about training for fat loss, how to make it work for your schedule and lifestyle, cardio and conditioning recommendations, 3 total workout plans to choose from based on your preferences.
You will learn about training intensity, why it matters and how it impacts your results.
You'll learn how training allows you to maintain your muscle better than any other type of exercise or long cardio sessions.
If you can't perform a movement for some reason, we have a full list of exercise substitutions, as well.
4D Fat Loss Food and Meal Preparation Guide:
This is a short guide on how to practically structure your nutrition in a way that suits your needs and lifestyle without overcomplicating the process.
The guide is flexible but specific.
I even give some recipe recommendations for those of us who aren't super familiar with cooking. 😉
Application:
Part of this process is getting you to act and actually do the thing you set out to do. In the past, I've released standalone programs, and while there's nothing wrong with that, I wanted to offer more than just a book full of my writing and a program to do on your own.
That's why I created this 8-week course to go through on a weekly basis and actually focus on implementing the concepts.
4D Fat Loss Mindset And Momentum Guide: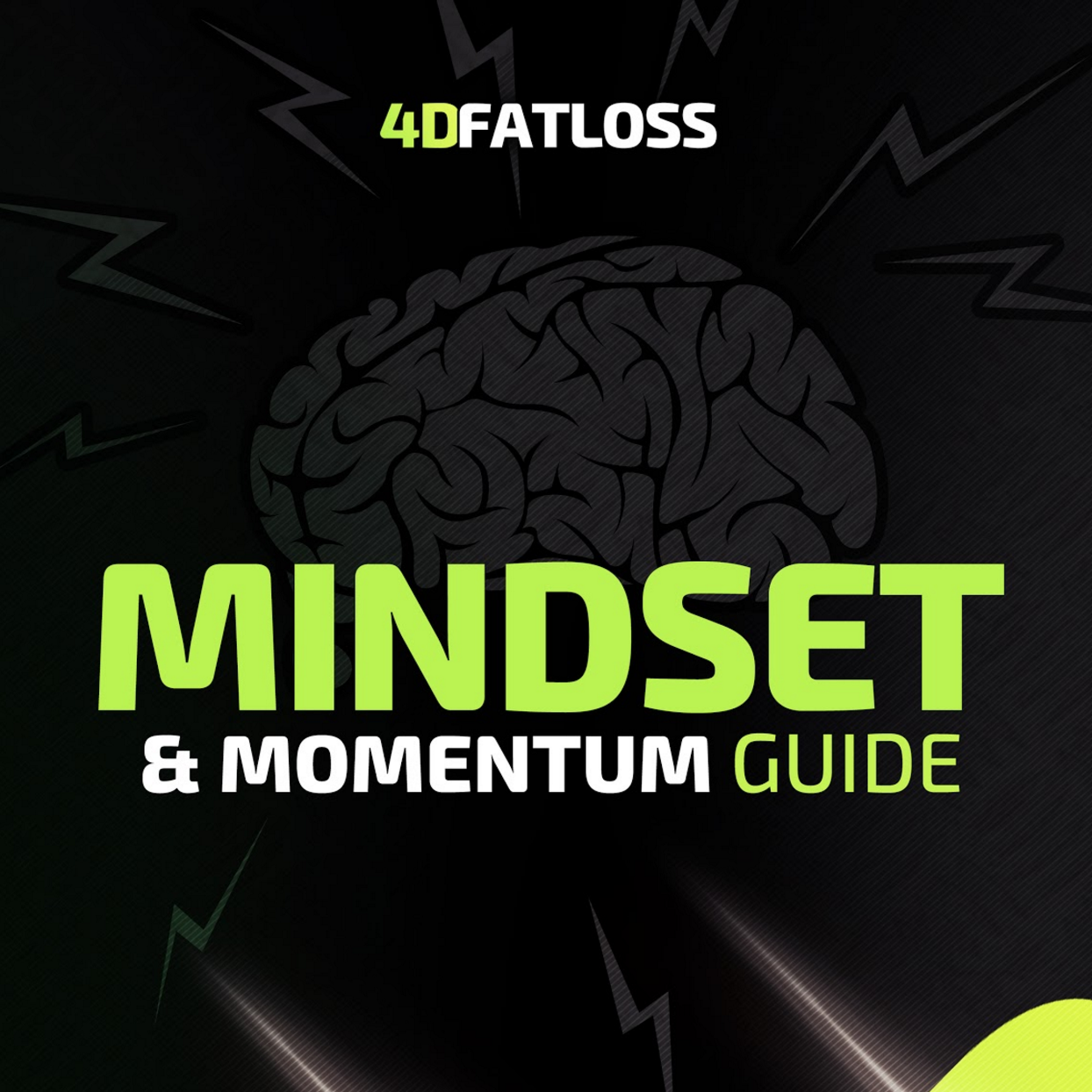 48 pages, 15,000 words, and the most valuable part of this program. it's also my favorite part of this course because it contains the DMA System I've created.
You can read the full details of the DMA system on the 4D Fat Loss page, but here's a summary: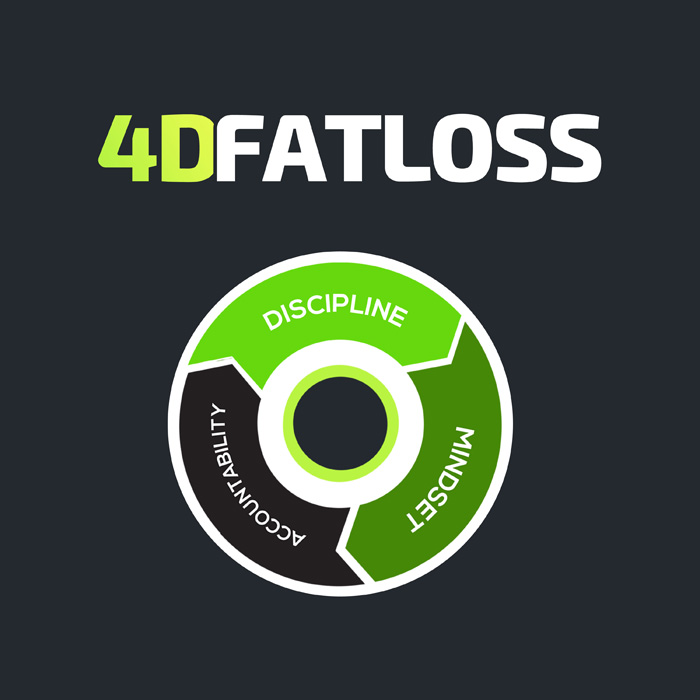 The 3 drivers in my program are discipline, mindset, and accountability. Straight from the text:
Your mindset and your routine are everything. No single training program has all the answers, nor does any one macronutrient split.
No amount of short-term motivation is going to save you when you don't have the proper systems and mental frameworks in place.
In order to succeed long term at anything, you must have positive feedback loops in full effect to support your efforts. Positive feedback loops will keep you going when you're low on motivation. And remember… you don't want motivation. You want momentum.
With the DMA system, there are 3 principles that work together over time and they're cyclical.
Those are:
Discipline (D)
Mindset (M)
Accountability (A)
Each principle feeds into and supports the other, and you can't have discipline without proper mindset and accountability to your goals. You can't build the proper mindset if you're not being disciplined enough to work on it.
You won't be accountable to your goals if you don't practice discipline. Now for some people, this seems easy, but it's only because the concepts are already internalized.
An Emphasis On Habits And Process Instead Of Outcomes
4D Fat Loss is about learning to focus on the process, not the outcomes. It's about being consistent and taking imperfect action rather than trying to be perfect all the time.
The emphasis is to empower you to create and form new habits that are in line with your fat loss goals so that you create a framework to reach your goals and maintain progress by building up the discipline and mindset necessary to keep you on track.
This isn't about starvation, or prepping for a bodybuilding or figure show. It's about creating permanent change when nothing else has worked for you in the past.
Here's a walkthrough of the backend so you can get an idea of what it looks like:

Accountability And Support:
Since this is a course, you'll be going through it with other people at the same time. We'll have a private Facebook group to discuss the lessons and share ideas with one another. It'll also be a place to share your struggles, get feedback and support others in their journey.
The course will be over an 8-week period and each lesson will be delivered via email at the beginning of each week.